Back in Full Throttle (Gripe Included)

It's been quite a while since I've posted; the play has kept me pretty darned busy. Yes, that's right, I'm in SJSU's production of "Our Town" , which runs April 21, 22, 27, 28, 29 at 7pm, with a matinee on April 26 th at 11 am.(Tickets can be bought here).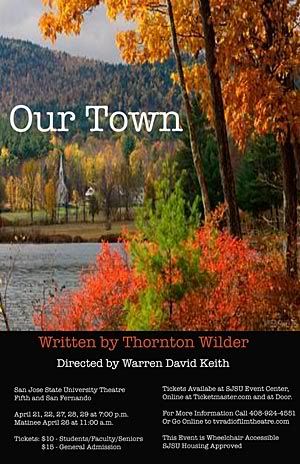 Image from SJSU website

Ok, that's my blatant plug; hope it wasn't too painful.


Whateva'! What's going on?

In other news on campus, University Housing is allowing students to break their year-long apartment contracts for $50, which it generously takes out of the security desposit they've already paid.

Sounds a little fishy to me though...




image from SJSU University website

Why would the University set up year-long contracts with students at a college known for being a commuter campus in the first place - unless they simply wanted greater profit margins.

It seems obvious that a high number of students would not wish to stay through the summer.

Sadly for the University, it is because of its increasing profits, or rather the escalating costs to students, that some students are opting to live off campus - which doesn't promote University growth or pride.


What's that One Site Online that Does that Apartment Thing?


No wonder Craigslist is booming. It offers students a highly competitive alternative to campus living.

While the University is upping the price of housing next year and dinging students with fees on contracts that should never have been created in the first place, off-campus housing is sometimes up to $200 cheaper for the same amount of space - just a block away.


So What?

Now, it doesn't take an Einstein to see the long-term effects that this could have.



As word gets out about off-campus housing, money will be pulled away from the University, worsening the school's financial situation - something horrible to phathom as it is already working on a shoe-string budget.


So what's the Solution?
image from Google Images

Well it's already too late for the students who've been dinged for breaking their contracts to move out in May of this year.

But next year, the University can start by matching market prices. In order to run an efficient and profitable business, you need to be competitive.

This means 9 month leases (revolutionary!), and more programs that reach out to student in Campus Village and connect them with their neighbors - even if this means students must pay for things like electricity.

Keep the students happy, don't leech them for an extra buck, and then advertise for free online (linking through the rest of the campus websites) with comparisons to offcampus housing.

The number of students living on campus will increase, and in the long run, it'll be time and money well spent.


sjsu
soapbox prophet
Andrew Venegas
San Jose